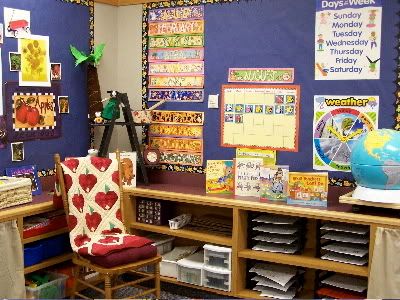 A dramatic play center, in a classroom should include "home center" props, like kitchen, living room furniture, theater area, dress up clothes and etc. These are related to facilitate dramatic play. You should keep in mind the children's interest.
1. Arrange the dramatic play area so children have a clean area with enough space. Then you can decide what type of area to include such as a home, store, post office, etc. Depending on curriculum you can change the theme, or area of study. You can include the entire class on the decision making.
2. After the class has made a decision, you could ask what should be included in the center. Where could the center go, what props could be included etc.
3. After a group discussion, have the children help set up furniture and or props in the designated area. You can then leave the area open for the children to play.
4. After the children had a certain amount of time to play in the center, bring them back together as a group and discuss the dramatic play area they created. Ask them what they liked and disliked about the centers and what they would add to make it different.
5. Always remember that the dramatic play center is there for fun and learning. The props and materials can always be added and removed. Playing, learning, and investigation is the central idea. So have fun and play along with the children!
For more details and ideas of other types of centers visit

Source:
Church, Ellen (1999,August). Learning Centers; Dramatic Play Area. Retrieved March 10, 2009, from Scholastic Web site: http://www2.scholastic.com/browse/article.jsp?id=12125